Lagoon pool facing rainforest with Aussie BBQ
Villa Marine facilities include large, green open spaces with huge palms and rainforest trees. We have a large pool that faces our patch of rainforest and offer free BBQ facilities and outdoor dining area for guests.
Exceptional spot for birdwatching and nature
Here at villa marine we have more than 50 species of birds and 70 species of tropical flowers and plants. For more information please go to our Nature page.
50 metres from the Yorkeys Knob beach
Enjoy amazing sunsets, free fishing and a wonderful spot to run along Yorkeys Knob beach. We provide fishing lines, crab pots and cast nets and the best local knowledge on where to go!
Exceptional location for tours and activities to the entire region
Villa Marine is strategically located to explore the Cairns region. We are just 15 mins from Cairns CBD and offer easy access to the northern beaches. We have an on site tourist information centre, making organising tours quick and easy. We offer great deals and expert advice.
Additional Villa Marine Facilities
Car hire facilities. For more information contact us here
Free car parking
DVD's and Book library. Wildlife and marine life reference books
Free maps of Cairns, Yorkeys Knob, Cairns Northern Beaches and Tablelands, 4WD drive and national park maps.
Wifi internet access
Free local paper upon request
Laundry, washing machine, drier and iron
Fishing lines, crab pots and tide charts available from our office
Open 24 hours a day for your convenience. Late check-in is not a problem
Cot and highchair hire
Extra pillows available on request
Photocopy and printing services.
Bus timetables from Villa Marine to Cairns and Cairns region (more information here)
Wheelchair access. Portable wheelchair ramp and shower chair available upon request.
No hidden costs. Fees include all taxes and housekeeping.
Other nearby facilities and services
Yorkeys Knob Yacht Club & Marina 
This world famous yacht club is right here at Yorkeys Knob with its bar and restaurant overlooking the Coral Sea and marina. Free courtesy bus transfers for Villa Marine guests. The club has a large menu and stunning views.
We are just a 5 minute walk from Yorkeys Knob Golf course. We offer discounted green fees for all our guests. Electric carts, pro shop and lessons are available at this beautiful golf course.
Yorkeys Knob village shops
Villa Marine is close to Yorkeys Knob village shops. Shops include a post office, supermarket, bakery, restaurants, cafes and souvenir shops. Also nearby is a kite surfing shop and beach equipment hire.
Tourist Office Information at Villa Marine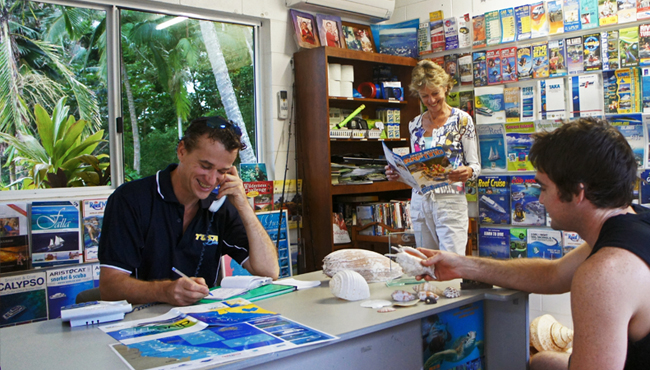 For your convenience we have a Tourist Information Office on site here at Villa Marine. The office is open to the public and offers a free service to locals and guests of the resort. We are open 7 days and offer a personal, friendly and helpful service.
Tours can be booked in advance, on arrival and during your stay. You can check with us for weather reports and we provide reef reports. We have an extensive range of free maps and lots of ideas on free activities. For paid activities we can offer discount vouchers and special deals.
Airport shuttle bus bookings can also be made through our office.
Come see our collection of seashells and nautical memorabilia in our fully air conditioned Tourist Information Centre. For more information about tours and activities please visit our tours page.