Cairns Cruise Ship Tours and onshore Excursions

Yorkeys Knob Tourist Information Centre specialises in cruise ship bookings and all onshore tour bookings for cruise ships berthing in Yorkeys Knob, Cairns and Port Douglas. 
We are the Yorkeys knob cruise ship specialist, for onshore excursions activities that fit cruises ship timetables.
The Yorkeys Knob Visitor Information Centre is just a 6 minute walk or 3 minute cab ride from where your tender boat arrives at Yorkeys Knob Marina. 

With over 400 different tours to choose from, book the Cairns tours, Port Douglas activities that you would normally have booked on the cruise ship at a more expensive price. Instead book locally through us at the local price and save lots of money off your onshore excursion.
Book in advance and secure the tour you would like at the local rate, utilise our local knowledge and experience.
Our staff is highly skilled and experienced to matching tours that fit with your onshore trip and tour requirements.
We book all cruise ship passengers and have tours suitable for passengers on Pacific Dawn, Radiance of the Seas, Queen Mary, Celebrity Soltice, Pacific Pearl, Millenium Aurora and all other cruise liners.
We work with you to select the tours that fit with your arrival and departure times and we can book these with or without transfers.
Cruise Ship Tours from Yorkeys Knob, Cairns & Port Douglas
1. Great Barrier Reef Tours for cruise ship passengers
Popular cruise ship tours from Yorkeys Knob and Cairns include Great Barrier Reef tours at Agincourt Reef with Quicksilver Cruises and tours to Low Isles. Half day tours are also available.
This is a popular choice that you can purchase the same cruise but through us at a much lower rate.
2. Great Barrier Reef Helicopter and Scenic Flights from Cairns for cruise ship passengers
We have a huge range of Cairns Scenic Flights over the reef as well as helicopter flights over Cairns, Port Douglas and Green Island. These tours will pick you up and drop you off at our information centre just a 6 minute walk from where the Yorkeys Knob tender boat docks. For Cairns and Port Douglas we can have you picked up and dropped off from your cruise ship arrival location.
3. Kuranda Tours for cruise ship passengers
Kuranda Skyrail Cable Car to Kuranda and the Kuranda Scenic Railway back are a very popular day excursion for cruise passengers. We can assist you with transfers to Skyrail from where you tender arrives. If you can contact us in advance we can mail to you a Kuranda information package including discount vouchers in to the Kuranda Butterfly Sanctuary, Bird World, and to the Koala Gardens.
4. Want to do your own thing? Sole Charter Tours for Cairns cruise ship passengers
Book a Cairns sole charter bus tour. Just advise your group's needs. If you have a small or large group and would like to charter your own bus, your Cairns day tour options are extensive. This way you can do your own tour to places such as the Waterfalls, Mossman Gorge, and other local national parks.
5. Horse riding for cruise ship passengers
Horse riding at Yorkeys Knob is a popular half day activity suitable for cruise ship passengers. Just a 7 minute drive from tender arrival point to horseriding. Just advise us of your requirements.
6. ATV – Quad Bikes
Enjoy quad bike adventures here Yorkeys Knob close to the Yorkeys Knob tender arrival point. This is a half day fun action activity.
7. Green Island Tours for cruise ship passengers.
Book well in advance for the half day Green Island Cruise which includes snorkelling or glass bottom boat. We can also add additional activities on such as diving and sea walker. Green Island tours suitable for cruise ship passengers. Often book out early. Please advise us soon as possible to secure you your ticket.
8. Tjapukai Aboriginal Experience – Aboriginal Tours suitable for Cairns for cruise ship passengers.
Aboriginal experience very close by, we can help you with transfers there and back.
Ideal half day activity that is close to the cruise ship departure point. Learn about bush foods and medicines, spear and boomerang throwing, the creation story and watch the famous Tjapukai aboriginal dance show. A very affordable fun activity.
9. All Other Tours for cruise ship passengers.
Any other tour that fits cruise ship timetables, we can book for you at the local rate.
Don't pay cruise ship prices, book locally and save money.
10. Yorkeys Knob activities for cruise ship passengers.
Spend the day by Yorkeys Knob beach or by our resort lagoon pool adjoining our information centre and utilise our facilities including free wifi for a low day fee. Yokreys Knob beach Towel Hire. Just advise your needs.
11. Australian Amour and Artillery Museum – the largest display of armoured vehicles and artillery in Southern Hemisphere. 
*** With large numbers of passengers on the cruise ships we recommend early booking to avoid missing out and to save money utilise our local knowledge to select the tours that best suit your needs. ***
Reviews
Hundreds of happy customers have booked though us. Utilise our local knowledge and 16 years experience with Cruise Ship Bookings.
"Just a quick big thank you all went well and super smooth with the shore tours you booked for us had no problem getting a cab @ Yorkeys up to skyrail and the ship didn't leave without us lol !!
We enjoyed GBR with Quicksilver even though the weather could have been a little kinder.We will definitely come up again and will book again through your agency and recommend your expertise to our fellow cruisers.
Kind Regards Susan"
"We recently booked our shore excursions to the GBR & Skyrail with Peter while on our princess cruise .Excellent service hassle free and saved over $100 on tickets Thank you Peter
"
"Staffs all with excellent local knowledge which match my travel expectations. Highly recommend!!"

Yorkeys Knob Tourist Information Centre
Drop in just a 6 minute walk from your tender drop off location.
View our sea shell collection (free), cold drinks available, souvenirs, exchange book library, postcards and local souvenirs. Local Australian opals for sale. Utilise our wifi to catch up with family.
*** Book all your tours for your next cruise ship stop with us and we will get you local rates for these locations as well. ***
Cruise ship tour booking from Yorkeys Knob, Cairns & Port Douglas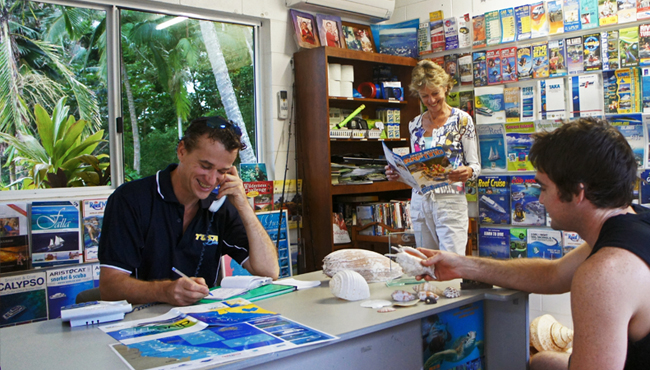 Phone
07 4055 7158
Overseas: +61 7 4055 7158
Email
info@villamarine.com.au
To book your tours we just require a small deposit. This can be done via card details (M/C or Visa) or cheque/money order. Ticket is provided at the Information Centre or as n e-ticket which will be sent to you.
Cruise Ship Tour Booking Form