Yorkeys Knob Cairns Tours & Activities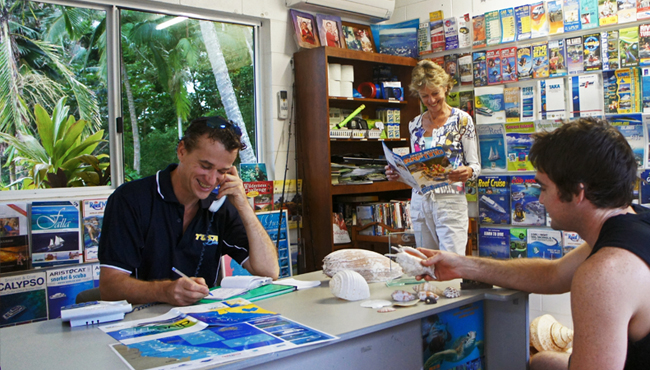 Our Yorkeys Knob Tourist Information Centre is open 7 days for visitors to Yorkeys Knob and the Northern Beaches of Cairns. The Tourist Information Centre offers onsite tourist information on Yorkeys Knob Tours and all Cairns tours & activities, and is a free tour booking service.
Yorkeys Knob Tourist Information Centre has information on Yorkeys Knob Holiday accommodation, from self contained apartments, resort and motel units, holiday rentals and holiday homes. They can also provide you information on Cairns first solar powered holiday hotel, which is right here at Yorkeys Knob.
We can assist you with all Cairns tours including, rainforest and beach activities, tours to the Great Barrier, snorkelling tours and diving trips, and all day activities such as  the Kuranda train and Skyrail.
These Cairns tours pick up from your Yorkeys Knob accommodation. We have tours for all ages, families, couples and singles. We have tour deals on many Cairns tours, from snorkelling the reef to rainforest adventures at Kuranda and Daintree Cape Tribulation. Just visit our Information Centre.
Our tour office has been operating for over 25 years, below is just a small selection from our huge range of over 300 different tours.
We book every tour in the Cairns area, it is a free service, there are no extra charges or costs to you to book through us and because of our in-depth knowledge of specials and discounts, we can save your budget. We do not charge any credit card fees on bookings we make.
For more info visit this site.
| | |
| --- | --- |
| Yorkeys Knob Tourist Information Centre | |

Address:
8 Rutherford Street
Yorkeys Knob, Cairns
Phone:
07 4055 7158
Overseas: +61 7 4055 7158
Email
info@villamarine.com.au
(next to Villa Marine Holiday Apartments)
Just visit the Yorkeys Knob Visitor Information Centre for local information on Yorkeys Knob tours, activities and events. We have local maps and information on Yorkeys Knob, and can point out all the attractions to you.
In addition we book dive courses, live aboard boats, Cape York tours, all Island accommodation from Heron Island to Lizard Island, Green and Fitzroy Islands. We are famous for getting the best rates for these locations.
Tours from Yorkeys Knob for Cruise Ship Visitors
Popular choices are, Kuranda, Skyrail and Train, half day fishing, half day white water rafting, half day green island, Tjapukai Aboriginal Cultural Centre, horseriding, Cairns Tropical Zoo and the Hartleys Crocodile farm.
Contact the Yorkeys Knob Visitor Centre for information and bookings.
We provide weather reports, reef reports, an extensive range of free maps, discount vouchers to save your budget and lots of ideas on free activities and we also book the airport shuttle bus.
Please see the following as a small example of our available tours and activities, we have over 350 tours to choose from, if not listed here, please contact us:
Great Barrier Reef Day Tours & Diving Trips
Bus Transfers are available from the Tourist Information Centre, next to Villa Marine or from your Holiday Accommodation, to the day trip of your choice. Day trips such as snorkeling Great Barrier Reef (50 different trips). Dive Courses & Dive trips. Overnight & Live Aboard Boats, as well as extended stays on Live Aboards.
Wide range of options as well as sea-walker, dive courses (certified and introductory diving) night diving and coral spawning.
Rainforest

Kuranda tours including the Kuranda Scenic Railway, Skyrail and Rainforest Station. We can book any Kuranda Scenic Railway and Skyrail combinations for you, with or without transfers. Visit Daintree and Cape Tribulation the oldest rainforest in the world. We have brochures on all Cape Tribulation and Daintree tours and accommodations.
Yorkeys Knob Fishing Trips and Tours

We have fishing tours from Yorkeys Knob and from Cairns, these include Cairns estuary fishing and crabbing, Cairns reef fishing, Mulgrave river and Daintree river, Game Fishing and Light Tackle and Marlin Fishing. We can also hire you fishing rods for fishing at Yorkeys Knob.
Cairns Island Tours that pickup from Yorkeys Knob

Fitzroy Island and Fitzroy Island Resort Bookings. Green Island and Green Island Resort Bookings. Frankland Island. Low Isles. Lizard Island day trips and resort bookings.
Cairns Wildlife Tours from Yorkeys Knob and Cairns

Yorkeys Knob is a birding hotspot. Cattana Wetlands is just 5 minute drive, and the Yorkeys Knob lagoon is a close walk from the Tourist Information Centre.
Bird watching in the Cairns region and Daintree. Nocturnal spotlighting of native wildlife in the Cairns tablelands, crocodile viewing on Daintree river / Cairns Hartleys crocodile farm and Cairns Tropical Zoo. Ask us for discount vouchers.
For more information on Yorkeys Knob bird watching, click here
Scenic Flights

We have the largest range of flights to the Great Barrier Reef, Lizard Island or inland to locations such as Undara. Helicopter Flights to Great Barrier Reef, these can be 30 minutes or 1 hour or combined with a reef trip as a fly cruise or fly fly option.
Cape York tours, we have visitor information on all camping and accommodated tours to Cape York, with barge/ship options to Cape York, Bamaga, Torres Strait, Thursday Island barge. Four Wheel Drive tours to Cape York. We are agents for all Cape York tours and we will get you a discounted rate of these.
Adventure Sports Available from Yorkeys Knob
We have the full range of Cairns adventure sports, with pick up from Yorkeys Knob, these include skydiving, rafting, sea kayaking, bungy jumping, jet skis and parasailing.
Ask us about free transfers, we have these activities and many more available in our award winning information centre.
Yorkeys Knob Kite Surfing
Yorkeys Knob beach is famous for kite surfing and is a popular kite surfing location. We have various options for kite surfing accommodation here in Yorkeys Knob, close to the beach.
The Yorleys Knob kite surfing shop is located at the Valley street shops, just a 5 minutes walk from the Visitor Centre. We have information on Yorkeys Knob kite surfing lessons and classes, or visit Kiterite.
We can also book you Cairns kitesurfing lessons. White Water Rafting – we have a range of tours including full day Tully River white water rafting or half-day trips on the Barron River. Ask us about free transfers.
Yorkeys Knob Horse Riding
Horse hiding and ATVs are available from Yorkeys Knob with half and full day combinations. Free pick up is available from our Visitor Information Centre in Yorkeys Knob.
Cairns Aboriginal and Cultural Tours With and Without Transfers from Yorkeys Knob
We have the largest range of aboriginal tours from Cairns. These include aboriginal rock art tours such as with Nujal_warra elder Willie Gordon, Laura rock-art sites, Kuku Yalanji cultural habitat tours, Bama Way aboriginal tours and Tjapukai Aboriginal Cultural Centre. At Tjapukai enjoy live dance performances and a spirit welcoming ceremony. Tjapukai Aboriginal Cultural Centre is just 5 minute drive from Yorkeys Knob, or we can organize pick up for you.
Phone us on (07) 40557158, contact us or visit us.
The Tourist Information Centre offers onsite tourist information on Yorkeys Knob Tours and all Cairns tours & activities, and is a free tour booking service.