Have a story to share about your Villa Marine experience? We'd love to hear your feedback! Have a look at our cairns accommodation testimonials:
What people say about Villa Marine on TripAdvisor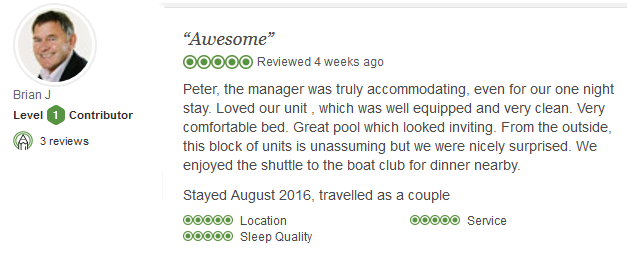 Testimonials
Shane
I spent one week at this fantastic complex towards the end of the wet season. While I was staying in a fantastically furnished appartment I always had the feeling that I was in the centre of the rainforest because of the luscious surroundings of Villa Marine.

The pool is set infront of towering rainforest greenery where you can swim, relax or have a barbeque. The appartment itself was aboriginal themed with some antique furniture and ornaments.

It was very cool even in the high humidity. It was spotless when I arrived and presented to a high standard.

While i stayed here I made a trip to the rainforest which I booked through Peter the owner. He gave me a great price and advised me on how to get there.

The rainforest skyrail to Kurunda is only a 10minute drive away and accessible by public transport. I would definitely recommend it!

It is a great area just to walk around with rainforest trails, mountain scenery and river and seafishing within walking distance. Yorkeys knob is a quaint little area, great for a relaxing break away from the city.

The best aspect of Villa Marine has to be Peter, the owner, who was extremely helpful with any questions and extremely knowledeable on the local area. Make sure you go to him for your tours and trips, he offers the best prices I could find!
Jorge Pardo
I been here a couple of days ago. I enjoyed every minute of my visit. I loved the swimming pool, surrounded by nice tropical flora. The rooms are very clean, spacious and homelike. It's a place that make you wishes to come back soon.
Helena and Patrick
Peter thank you very much for the wonderful time at Villa Marine, we enjoyed the nice pool, the birdwatching activities, the nice sunset on the beach and the rich nature environment. thanks again. Helena.
Krissy
This is just the most perfect place to stay when your on a budget.. I have just moved to cairns and peter has been great, helping me find my bearings, tips on places of interest, booking trips…. everything about "Villa Marine" gets a thumbs up from me definatly recommend to people ….
I dnt wanna leave…. thanx Peter for all your help
Rick & Rene L England
What can we say that hasn't already been said. Stayed for 6 nights in February in the rain forest room which was light, airy, clean and comfortable – best room on the complex. Peter was the perfect host – couldn't have been more helpful.

He arranged four trips for us including one whilst we were staying in Cooktown. Was by far the best of five different accommodations we stayed in whilst we were in Oz. Would thoroughly recommend staying at this resort and if we are ever back in Oz will certainly return again.

Thank you again Peter for all your help. You made our stay with you so enjoyable.
Rick & Rene
Katrin
Wonderful place to stay! villa marine have the most peaceful environment for tranquil holiday in cairns.
Toby and Georgina
Thanks so much for everything, had a great relaxing time.!We had to leave early to go back to the lyches but take care and we will come back and see you soon
Rod, Carol Wilford&Steve
Thanks heaps for having us.We loved it here,peaceful,tropical,excellent rooms,very comfortable, beautiful pool ,gorgeous location.No hesitation staying here again.
Alex and Jeremy
We stayed here for three nights and had a fantastic time. The place is gorgeous and the rooms are comfortable and clean. We loved the access to the beach and the views of the rainforest right out the window.

Peter was very kind and helpful and set up our Great Barrier Reef tour with exactly what we wanted. We wish we could have stayed longer as it is affordable, luxurious and beautiful. And even though we were here in the summer, we were able to stay nice and cool with the air conditioning in the room just adding to the lovely stay.

We absolutely recommend this to anyone. Whether you're a traveler on a budget, or someone looking for a nice place to vacation, you'll find what you're looking for at the Villa Marine.
Dorothy Helderman
A beautiful and relaxing atmosphere is found at Villa Marine where nothing was too much trouble for our host Peter Sprigg. Highly recommended to all who are looking for something SPECIAL.
Andrea Miller
I had a lovely stay and found the atmosphere at Villa Marine to be uplifting. The beautiful beach so close and loved the local fruit and gorgeous vegetation.

Peter was a great host and we had lots of laughs. A must is the local boat club, watch the sunset and have a meal. Looking forward to my next stay.
David and Sue Goodwin
We learnt about this place from the Australian Lonely Planet Guide which especially commented on the friendliness and helpfulness of Peter the Manager. It is all true.

This place has 8 holiday units with all cooking facilities around a grassed swimming pool/barbeque area surrounded by palm trees.All units have airconditioning and ceiling fans.

It is located about 100metres from a long sandy beach which is really excellent for swimming. We swam everyday in sea water that was 24 degrees C – in two weeks in late September/early October.

We got great great help from Peter in planning trips out to the Reef, Islands and Atherton Tablelands. Great help.
David and Sue Goodwin
Wolfgang Gruber
Hi Peter , Great page you have there of villa marine. Love the videos as well. This is for shure the best place in cairns to stay at ! ( Value for money ) Soooo, all you facebook people out there give Villa Marine a go !
hi, peter, really appreaciated for everything! u ar just my lifesaver@@ i really enjoy the life with u guys! hope u goes well forever!!!
Sue M
We stayed at Villa Marine from 2 to 9 September 2011. Our bed was sooooooo comfortable. We had the best sleep of our whole month long Australian holiday (along with the one night at Tropicana on Philip Island) and the rainforest room has the best shower of the whole holiday.

It has a delightful swimming pool and is walking distance from a most friendly bottleshop. But what makes this location stand head and shoulders above all the other 11 locations that we stayed at is the manager, Peter.

Peter greeted us enthusiastically when we arrived and organized all our trips. Maps provided by car hire companies were tossed aside and detailed maps were provided which he would circle and arrow places we absolutely must see.

Peter would join us on our veranda and regale us with amusing and entertaining tales. Stay at Villa Marine – you wont be disappointed. He is a truly lovely man and we miss him loads. We love you Peter
Cris
Nice place! I was looking for accommodation near Cairns and lucky me, I found this awesome place! I love fishing and birdwatching and in that place I made both activities!!!

If you are looking for a affordable luxury place to stay with friend and family! Is really a nice place to stay, have a huge pool that face the rainforest! and every day there I saw more than 16 kind of birds!

Also I went very early to fishing on the beach! I didn't get a good fish, Hahahaha.. just a catfish, but I enjoyed a lot with my colleagues there! thanks for everything Peter! 100% recommended!
Michael Reid
Dear Peter,thank you for arranging my Green Island visit. It was indeed a pleasent way to spend my last and only free sightseeing day on my 1st trip up to Cairns.
Sandra L
Fantastic self contained apartment, 1 minute from the beach and surrounded by vegetation. It s a very relaxing and charming environment, swimming pool, bbq, nice and simple decoration. Budget accommodation with the luxury of the location!!!

The owner Peter is just awesome, helpful and welcoming… It s perfect for a break for a busy life, I ll be back!!
Marcus Moser
Thank you Peter we had a great time at your place. Thank you also for your help and recommendation! It was a really pleasure to stay in your wonderfull " Villa Marine"
Lynn C
Cairns and beaches is expensive for apartments. If you are looking for a place that is not going to break the budget yet give you all you want this could be it, and it is animal friendly so bring the pooch.

One of the best beds we have slept in, the units are old but hold that old world charm of the Far North. Very clean and comfortable. Large swimming pool and the rain forrest at your door.

Walk to the beach what more could you want? If you wish to stay in Yorkeys Knob this is the place for the price and the owner is lovely very helpfull with all tours arranged for you if that is what you are looking for.
Gilles Fischer
Hi Peter,
Thanks a lot for booking the day out to the Great Barrier Reef and for your recommandations. It was an amazing experience!!!
Jan Thorp
We have had a wonderful time. Thank you for your great hospitality and rooms. We will put up some of our photos, share as you like. Thank you, will be in touch.
Sien Uijens Vd Nobelen
Hello Peter!
Back in cold Holland ,we think a lot about the good times we had at your place ,the last 12 days of our fantastic holiday in Australia
Hope to come back one day but first win the lotery!!!!
THE DUTCHIES
Jackie Bab
It was 2007 when I stayed here and I still miss it and think about it very often, excellent place run by excellent people ♥
Erin McClelland
My son recently started uni & needed a place to stay for the first week. The place was great, quiet & not far from the bus stop.

Peter was great & helped me out by going & giving him a wake up call when i couldn't get him on the mobile. Thanks Peter. I will certainly recommend Villa Marine to all my friends.
David and Jan Corcoran
Two weeks ago my wife and I decided to have a couple of nights away from home.
Villa Marine was chosen and what we found what was a hidden gem in paradise and right on our own doorstep.

Approx 30 mins from our home. Our room overlooked rainforest and so peacefull We could even the sea